We, Alain & Yuliya, met through online dating services (see Our Story). With our experience we created this Matchmaking Dating website to provide you with all the information and required services to find and meet your beautiful Russian bride
Flowers and Gifts
On each single Russian woman profile, you can click "Send a Gift to (name of the lady)" and it will bring you to the page where you can choose the Flowers & other Gifts you would like to send to your special beautiful Russian, Ukrainian, Belarus lady. You can keep track of when the agent delivered your Gifts from your Account page. When delivering the Gifts, the agent will take a picture of your Russian woman receiving it. This picture you can see from your Account by following the link "My Orders". You will receive a notification from our Dating site about the gift being delivered to your email address.
Translation and Interpreters
We translate your letters in Russian from most languages including English, French, German, Spanish and Portuguese.
Once you've decided to meet your beautiful single Russian woman in her hometown, our interpreters can join you and your lady to assist in your communication.

Glossary
CIS - Commonwealth of Independent States
Commonwealth of Independent States refers to an alliance of 10 of the 15 former soviet republics which was formed on Dec. 21, 1991 signalling the dissolution of the Soviet Union.


It now consists of nine of the fifteen former Soviet Republics: Armenia, Azerbaijan, Belarus, Kazakhstan, Kyrgyzstan, Moldova, Russia, Tajikistan and Uzbekistan. Turkmenistan discontinued permanent membership as of August 26, 2005, and is now an associate member. On 12 August 2008, Georgia announced it would leave the CIS, and on 14 August 2008 the Georgian Parliament voted unanimously to withdraw from CIS. According to the CIS statute (sec. 1, art. 9), Georgia now has 12 months to implement its decision to leave the regional organization. Ukraine is sometimes incorrectly believed to be a member of CIS. However, the country is neither a full member nor an associate member of this organisation as it has never ratified the CIS treaty.
FSU – Former Soviet Union
Former Soviet Union refers to all 15 republics which formed the USSR.
It consists of Russia, Estonia, Latvia, Lithuania, Belarus, Ukraine, Moldova, Georgia, Armenia, Azerbaijan, Kazakhstan, Kyrgyzstan, Uzbekistan, Turkmenistan, and Tajikistan. These countries, except Estonia, Latvia, Lithuania, Turkmenistan and Ukraine now form the Commonwealth of Independent States (CIS).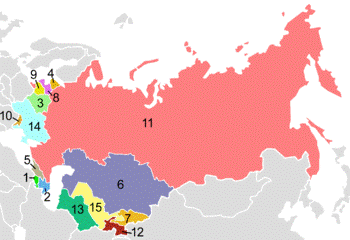 Post-Soviet states in alphabetical order:

1. Armenia
2. Azerbaijan
3. Belarus
4. Estonia
5. Georgia
6. Kazakhstan
7. Kyrgyzstan
8. Latvia
9. Lithuania
10. Moldova
11. Russia
12. Tajikistan
13. Turkmenistan
14. Ukraine
15. Uzbekistan