Ukrainian Women Matchmaking Service with Marriage Agency Yuliya in Kiev
25 July 2014
MyPartnerForever, a well-established Ukrainian women matchmaking agency, recently partnered with Marriage Agency Yuliya, located in Kiev, Ukraine. By combining their expertise and experienced matchmakers, they offer their clients a true opportunity to meet genuine single Ukrainian women who are seeking a life partner.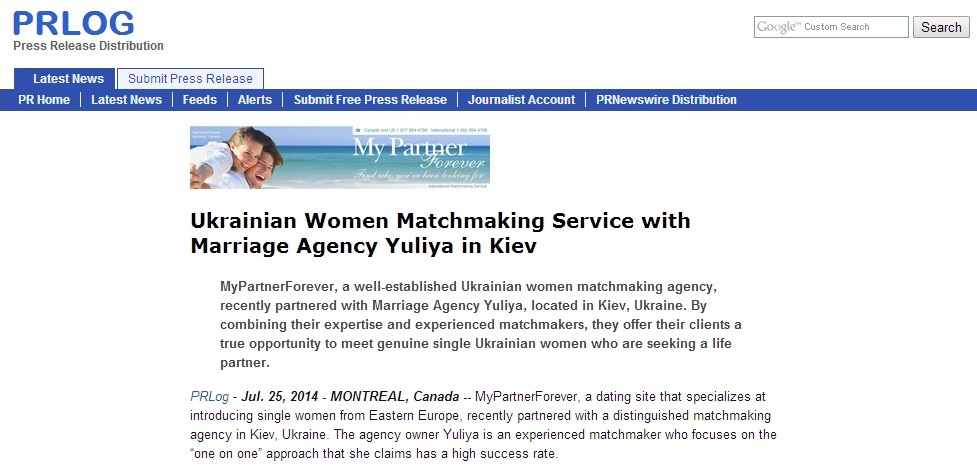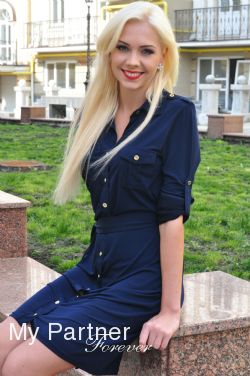 Montreal, Quebec -- July 25, 2014 – MyPartnerForever, a dating site that specializes at introducing single women from Eastern Europe, recently partnered with a distinguished matchmaking agency in Kiev, Ukraine. The agency owner Yuliya is an experienced matchmaker who focuses on the "one on one" approach that she claims has a high success rate.
Yuliya Kuneyeva, Co-founder and Marketing Director of My Partner Forever, said "Regardless of what is going on in Eastern Ukraine, the fact remains that tens of thousands of single women in Ukraine cannot find a suitable husband locally and broader their search to other countries. I am sure most of them would like to meet a nice single man in Ukraine but it is mathematically impossible plus it is not a secret that not all single Ukrainian men represent good potential husbands because they simply are not focused on serious relationships leading to marriage."
Kuneyeva added "It is also not a secret that over the years, many scammers have exploited this phenomenon. We have a very strict anti-scam policy and the agencies we partnered with work the same way. What matters the most to us is to bring single men and women together and we measure our success by the number of happy couples we help creating. We are truly matchmakers in our hearts. This is what makes us stand apart from most other Ukrainian women dating sites in this business."
"Our recent partnership with Yuliya, owner of a Ukrainian matchmaking agency in Kiev gives us and our clients access to over 150 single women who are mostly highly educated and active professionals. They also represent over 80 women who don't want to have their profiles on the web because they are well-known personalities, models etc. This is when our personalized matchmaking services in Ukraine become even more valuable."
"They just celebrated their 6th year of being in business. They have a staff of 12 matchmakers who work in their main offices in Kiev as well as in their offices in Zaporozhye and Odessa. Every matchmaker knows English well while some are fluent in several languages. They also have drivers to pick-up clients at the airport and help them to get to their hotel, shopping etc. In fact, they offer all the services required so men can travel with peace of mind and concentrate on the purpose of their trip which is to personalized matchmaking services in Ukraine."
With an estimated population of 2,850,000, Kiev is the capital of Ukraine and also its largest city. Despite the political crisis in Ukraine, Kiev is considered a safe region to travel. As reported daily by major international news network journalists who are in Kiev, life goes on as usual and no major incidents are reported.
About MyPartnerForever.com
MyPartnerForever.com was founded in 2007 and is incorporated in Montreal, Quebec, Canada. It is owned by Alain Lalonde and Yuliya Kuneyeva. It specializes in introducing single women from Belarus, Latvia, Moldova, Russia and Ukraine who are seeking a foreign husband to men from all over the world.
Contact
Alain Lalonde, President
MyPartnerForever
+1 (450) 264-6884
Email: client_services@mypartnerforever.com
MyPartnerForever