Russian Women Matchmaking Service Partners With Agency Elena in Odessa, Ukraine
18 May 2010
MyPartnerForever.com, a leader in Russian Women Matchmaking, has partnered with Ukrainian marriage agency Elena from Odessa, Ukraine. Elena and her husband Gleb are well known among Odessa single women seeking a life partner from abroad.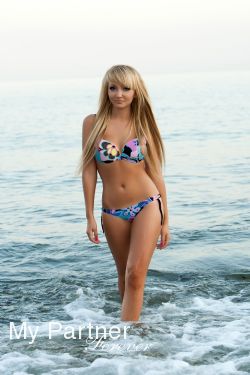 Montreal, Quebec – May 18, 2010 – MyPartnerForever.com, a Montreal based Russian women matchmaking service, has recently partnered with marriage agency Elena located in Odessa, Ukraine. Elena and her husband Gleb, the owners of the agency, have a solid reputation at offering their clients professional matchmaking services.
Well known as a popular tourist destination, Odessa is nonetheless popular for being the home of thousands of beautiful Ukrainian women seeking a life partner from abroad. With a population of over a million, the city suffers similar men versus women imbalance making it difficult for single women to find a husband. Thus, hundreds of men from all over the world find their future Ukrainian bride in Odessa each year.
"Elena and Gleb are a wonderful couple and they take their job very seriously. We are always thankful of the way the treat our clients who travel to their agency to meet the woman they are corresponding with." said Yuliya Kuneyeva, Co-founder and Marketing Director of MyPartnerForever.com."
Kuneyeva added, "With so many dating scammers taking profit of the Ukrainian women dating industry, it is normal that men are sometimes hesitant at making plans to travel across half the world to meet a single woman. But we know that when they travel to our partner agencies, they are never deceived and always happy with the matchmaking services provided."
Alain Lalonde, president and founder of MyPartnerForever.com explains, "Elena and Gleb are quite serious people and yet very fun to work with. Gleb makes the videos of their single women himself and does it in a quite original way depicting their Ukrainian women in their day to day life in a relaxing and fun way."
Lalonde added, "We certainly cannot guarantee love but we are proud to do our part of the mission which is to offer our clients the chance to meet single Ukrainian women who are interested in developing long term relationships with men from abroad."
With an international airport served by major airlines and no traveling visa required for citizens of most western countries, Odessa is also very popular for its many therapeutic resorts in and around the city.
About MyPartnerForever.com
MyPartnerForever.com was founded in 2007 and is incorporated in Montreal, Quebec, Canada. It is owned by Alain Lalonde and Yuliya Kuneyeva. It specializes in introducing single Russian women seeking a foreign husband to men from all over the world.
Contact
Alain Lalonde, President
MyPartnerForever.com
+1 (450) 264-6884
Email: alain.lalonde@mypartnerforever.com
MyPartnerForever