Russian Women International Matchmaking Website Translated in French
02 March 2010
MyPartnerForever.com, a Montreal based international matchmaking website, recently translated the main part of their website in French. This new feature will allow French speaking users who are seeking a Russian wife to use their services.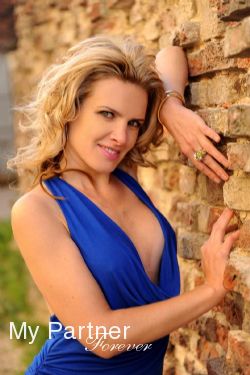 Montreal, Quebec – February 03, 2010 – My Partner Forever, a Montreal based international matchmaking website, is increasing their presence in the French speaking community. Translated by a team of professional interpreters, their website is now available to users from France and Quebec among other French speaking communities.
"Living near Montreal ourselves, it was natural to translate our website in French. Approximately 22% of Canada's population speaks French and we felt it was important to give access to our international matchmaking service." said Alain Lalonde, founder and owner of MyPartnerForever.com.
Mrs. Yuliya Kuneyeva, Co-founder and Marketing Director explains, "Our single Russian women are seeking a man to share their life with from anywhere in the world. However, besides Australia and New Zealand, it seems that men from countries in the Northern hemisphere have a better success rate at making them their Russian brides. We feel it may be due to sharing a similar climate and environment."
Lalonde added "During this last year, we have seen an increasing number of users from France asking us for advice on how to use our dating services. With customer service representatives in both Canada and France, we are now in a position to introduce a Russian woman to any French speaking man seeking a Russian wife."
Kuneyeva added "Since French and German are the most common second languages in Russia after English, our marriage agencies offer the services of professional interpreters who take great pleasure at helping French speaking clients while meeting their future Russian wife. Being a teacher by profession myself, I am now in the process of learning this beautiful and romantic language"
Lalonde added "My wife's daughter, Anastasiya, began her 7th grade in April in a French school while knowing only a few French words. With hard work and the help of a private teacher during part of the following summer, she finished her 8th grade among the first of class in all subjects, including French. Needless to say, we are very proud of her".
Part of their school programs, Russians have to choose a foreign language among English, French and German. While Russian and French are quite different languages, beginning with different alphabets, they share some common Latin sources and several words and expressions.
About MyPartnerForever.com
MyPartnerForever.com was founded in 2007 and is incorporated in Montreal, Quebec, Canada. It is owned by Alain Lalonde and Yuliya Kuneyeva. It specializes in introducing single Russian women seeking a foreign husband to men from all over the world.
Contact
Alain Lalonde, President
MyPartnerForever.com
+1 (450) 264-6884
Email: alain.lalonde@mypartnerforever.com
MyPartnerForever