Russian Women Dating Service Now Translated in Portuguese
06 November 2012
MyPartnerForever, a well-established Russian women dating agency, recently made their services more accessible for Portuguese men. As in most countries of Western Europe, an increasing number of men are seeking a life partner from Eastern Europe.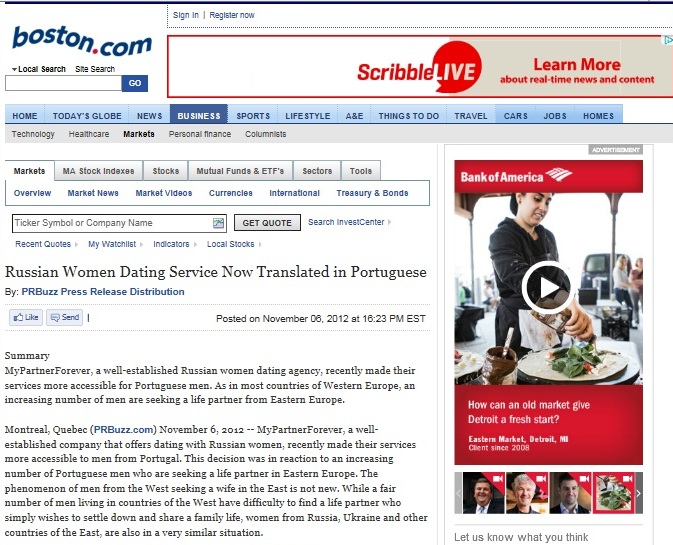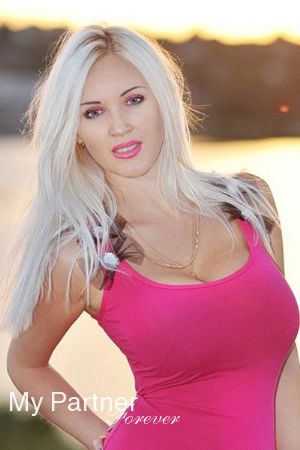 Montreal, Quebec – November 06, 2012 – MyPartnerForever, a well-established company that offers dating with Russian women, recently made their services more accessible to men from Portugal. This decision was in reaction to an increasing number of Portuguese men who are seeking a life partner in Eastern Europe.
The phenomenon of men from the West seeking a wife in the East is not new. While a fair number of men living in countries of the West have difficulty to find a life partner who simply wishes to settle down and share a family life, women from Russia, Ukraine and other countries of the East, are also in a very similar situation.
Yuliya Kuneyeva, Co-founder and Marketing Director of MyPartnerForever.com explains, "Over the last 10 years or so, it has become increasingly difficult for Russian women to find a suitable life partner. Here is an article that explains the situation many women from Belarus, Russia and the Ukraine are facing."
"Seeing the years go by and remaining single, I decided to do as thousands of other single Russian women do each year, which is to look for a husband from outside my own country. His country did not matter much to me. What mattered was to find a decent and good hearted man who would take me as his wife and love my daughter as his own. As for anyone who decides to move to another country, it is a very big decision to take. But for many single Russian women, it is a question of accepting to remain single or to take such a big decision. I took that decision and never regretted it. I am now happily married with a Canadian man and I can only wish for other singles to have the same opportunity." added Kuneyeva.
Alain Lalonde, founder and operations manager of MyPartnerForever.com, explains: "Men from Portugal are in a very similar situation as we are here in Canada and other countries of the West. As we say, good women to marry are already married and those who remain single are too busy with their studies and career to get involved in the type of family oriented relationship that many of us men are looking for."
Lalonde added "Of course, Russian women are not different from women from Canada, Portugal in the sense that they like to study and to develop themselves professionally but the difference is that they still value the family life and they don't see it as something that will prevent them from achieving their personal development. At the opposite, they believe that being involved in a solid and healthy relationship can only help to achieve personal goals."
Kuneyeva added "I cannot speak for all Russian women but generally speaking, what we are looking for is a good man to spend the rest of our life with. If that man is from Portugal, we will move with him to Portugal, it is that simple. We have seen an increasing number of men from Portugal inquiring about our services and this is why we decided to make our services available in their language".
About MyPartnerForever.com
MyPartnerForever.com was founded in 2007 and is incorporated in Montreal, Quebec, Canada. It is owned by Alain Lalonde and Yuliya Kuneyeva. It specializes in introducing single Russian women seeking a foreign husband to men from all over the world.
Contact
Alain Lalonde, President
MyPartnerForever.com
+1 (450) 264-6884
Email: alain.lalonde@mypartnerforever.com
MyPartnerForever