Russian Women Dating Service Now Introduces Single Women From Mariupol, Ukaine
23 July 2010
MyPartnerForever, a Russian women dating service introducing single women from Belarus, Russia and the Ukraine, recently partnered with marriage agency Victoriya from Mariupol, Ukraine. Per their cooperation, the two agencies now offer all the services local women and foreign men need to find each other and develop a relationship.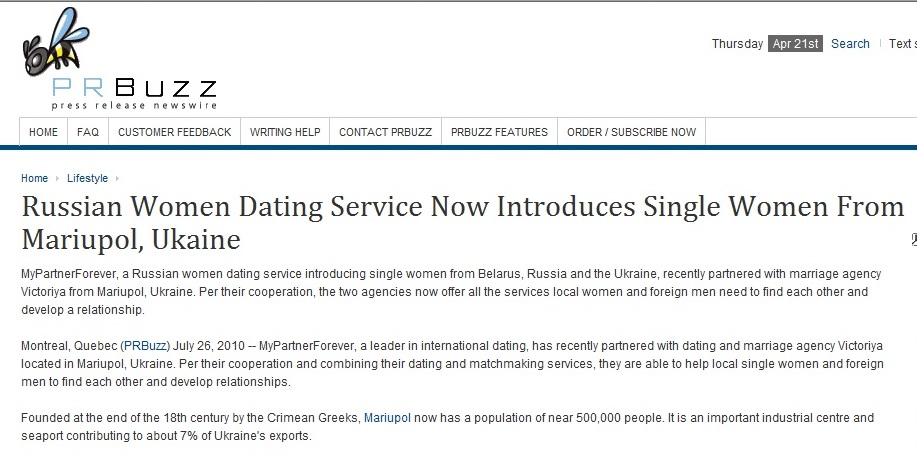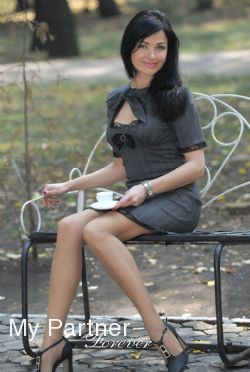 Montreal, Quebec -- July 23, 2010 – MyPartnerForever, a leader in international dating, has recently partnered with dating and marriage agency Victoriya located in Mariupol, Ukraine. Per their cooperation and combining their dating and matchmaking services, they are able to help local single women and foreign men to find each other and develop relationships.
Founded at the end of the 18th century by the Crimean Greeks, Mariupol now has a population of near 500,000 people. It is an important industrial centre and seaport contributing to about 7% of Ukraine's exports.
Being part of Ukraine and former USSR, a territory that has approximately 10 million more women than men, thousands of single Russian women cannot find their soul mate locally. Many register with their local marriage agency to find a life partner from abroad.
"From our first meeting, I could feel that Victoriya, the agency owner, has the right personality to help people. She knows her Russian girls well, understand their expectations and is able to introduce them to men who can become a good match and develop a serious relationship." said Yuliya Kuneyeva, Co-founder and Marketing Director of MyPartnerForever.com.
Alain Lalonde, president and founder of MyPartnerForever.com explains, "Being a popular sea resort to many Ukrainians and Russians, Mariupol remains unknown to most westerners. Yet, each year many single men from all around the world find their beautiful Ukrainian bride in Mariupol."
Lalonde added, "Our new partner Victoriya has a great deal of experience in international dating and helped creating many marriages in the last years. She, and her helpful staff, offer all the services men will need to meet their future Ukrainian brides."
Kuneyeva added, "The main factor we consider before entering a partnership with a marriage agency is their reputation and their honesty. We trust that our new partner Victoriya works in this field not only for money but mostly for the pleasure of helping single people find each other and that is what it takes to be successful in this business."
Located by the Azov Sea, it is also a very popular sea resort. Although there is an international airport in Mariupol, most travelers will arrive at the Donetsk international airport that is served by many local and international airlines. The distance between Donetsk and Mariupol is approximately 100 km and therefore, a short car ride.
About MyPartnerForever.com
MyPartnerForever.com was founded in 2007 and is incorporated in Montreal, Quebec, Canada. It is owned by Alain Lalonde and Yuliya Kuneyeva. It specializes in introducing single Russian women seeking a foreign husband to men from all over the world.
Contact
Alain Lalonde, President
MyPartnerForever.com
+1 (450) 264-6884
Email: alain.lalonde@mypartnerforever.com
MyPartnerForever