Poltava - a Choice Destination for men Seeking a Ukrainian Bride
20 February 2012
My Partner Forever, a leader at providing dating and matchmaking services between men from the West and Eastern European women has recently partnered with a well-established marriage agency in Poltava, Ukraine.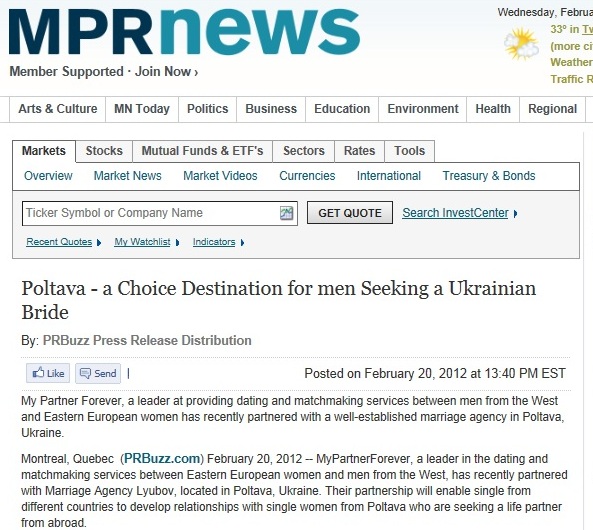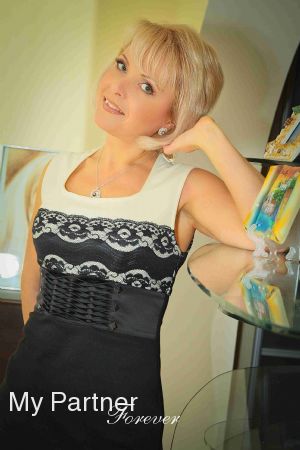 Montreal, Quebec – February 20, 2012 – MyPartnerForever, a leader in the dating and matchmaking services between Eastern European women and men from the West, has recently partnered with Marriage Agency Lyubov, located in Poltava, Ukraine. Their partnership will enable single from different countries to develop relationships with single women from Poltava who are seeking a life partner from abroad.
Located approximately 100 km from Kharkov, Ukraine's second largest city, Poltava is easily accessed from Kharkov international airport that is just a short ride by car, bus or train. Although its precise creation date is uncertain, the city celebrated its 1100th anniversary in 1999. It is a city of Ukraine with a long and interesting history.
As of the 2011 census, Poltava had a population of near 300,000. And, as in most cities of Ukraine and former USSR, there is a shortage of available men for marriage. Because of this demographic situation, thousands of women will never have the opportunity to find a husband within their area, thus being doomed to remain single. Similarly, thousands of men from countries of the West cannot find a life partner with their own country. These facts are at the heart of the Ukrainian brides phenomenon.
"From my first meeting with Lyubov, the owner of our partner marriage agency in Poltava, I realized that she is a very intelligent woman with a lot of experience in the field. Unlike many marriage agencies in Ukraine, her prime goal is to help her single Ukrainian women at finding a life partner from abroad. And her honesty paid off, as she runs a very successful business and creates happy couples regularly." said Yuliya Kuneyeva, Co-founder and Marketing Director of My Partner Forever.
Kuneyeva added, "As any business, the Russian brides agencies is very competitive. New agencies emerge regularly and unfortunately, many of them are there mainly to profit this phenomenon. Fortunately, there are still very honest and trustworthy people and Lyubov is definitely part of them. From the beginning, our cooperation has been very pleasant and constructive. We now offer all the services that both our men and her women need to find each other and to develop a long lasting relationship leading to marriage."
Alain Lalonde, president and founder of MyPartnerForever.com explains, "Sadly, men from the West who are looking for a Russian or Ukrainian wife are becoming skeptical and afraid of being scammed. The good news is that thousands of single Russian and Ukrainian women become the wives of foreign men every year and more and more men from the West wish to do as their friends did and begin the process of seeking a wife in Russia or the Ukraine."
Lalonde added, "Since flying to Russia or the Ukraine to meet a woman isn't exactly like driving across town to meet a lady over a coffee, we truly believe that the involvement of the local marriage agencies are a key element in the process of finding a Russian bride. Not only they meet every woman and validate her identity with passport, they also get to know them well enough to successfully match them with their ideal man. And that is what our business is about: creating happy couples."
About MyPartnerForever.com
MyPartnerForever.com was founded in 2007 and is incorporated in Montreal, Quebec, Canada. It is owned by Alain Lalonde and Yuliya Kuneyeva. It specializes in introducing single Russian women seeking a foreign husband to men from all over the world.
Contact
Alain Lalonde, President
MyPartnerForever.com
+1 (450) 264-6884
Email: alain.lalonde@mypartnerforever.com
MyPartnerForever