MyPartnerForever Now Offers Matchmaking Services for Dating with Kiev Women
14 May 2012
MyPartnerForever, a well-established company offering matchmaking services with single Russian women, has recently partnered with marriage agency Oksana located in Kiev, Ukraine.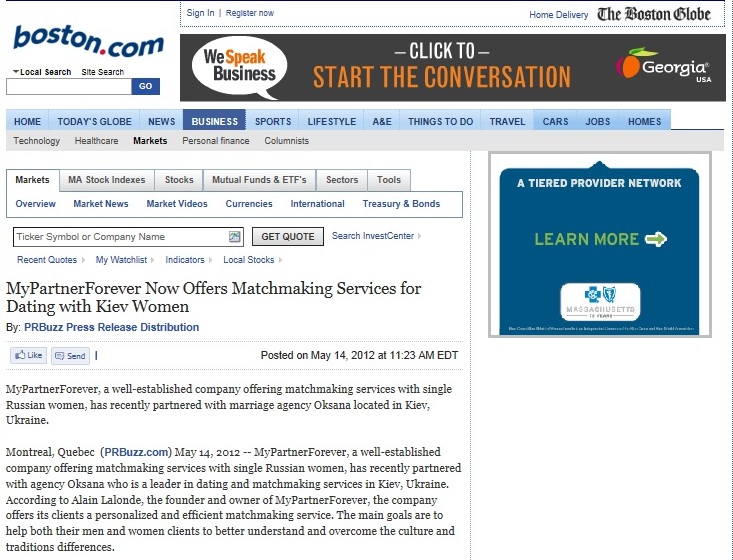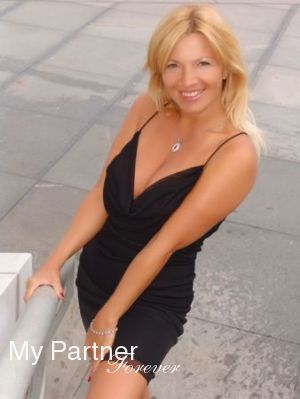 Montreal, Quebec – May 14, 2012 – MyPartnerForever, a well-established company offering matchmaking services with single Russian women, has recently partnered with agency Oksana who is a leader in dating and matchmaking services in Kiev, Ukraine.
According to Alain Lalonde, the founder and owner of MyPartnerForever, the company offers its clients a personalized and efficient matchmaking service. The main goals are to help both their men and women clients to better understand and overcome the culture and traditions differences.
Mr. Lalonde mentioned that his hands on experience, being married with a Russian woman, supported by the experience and the testimonials from the clients over the last 5 years, guided them to offer personalized matchmaking services that are tailored to their client's requirements.
Over the last decade, men from all over the world traveled to Kiev with the intent to find a life partner. While there are many success stories, there are also many cases where the cultural differences were not taken in account or under-estimated.
With a population of over 2,600,000, Kiev, the capital and largest city of Ukraine, is a very popular destination for men who are looking for a Russian or Ukrainian bride. According to the last census, there were approximately 175,000 more women than men. This certainly explains why so many Kiev women are looking for a life partner from the outside.
"Our new partner, marriage agency Oksana, have been offering dating and matchmaking services to their single women for over a decade. They have earned the reputation of being one of the leading agencies in Kiev offering such services. They believe that their role is not to simply put single people in contact but to offer them services that will help them to better understand each other's culture differences, thus enabling a more comprehensive communication and avoiding misunderstandings." said Yuliya Kuneyeva, Co-founder and Marketing Director of My Partner Forever.
Kuneyeva added, "Although we have a fairly good success rate of helping single men, from all over world, to meet single Ukrainian women and to develop a relationship leading to marriage, we believe that in most cases where it did not work out, both parties were not sufficiently prepared to the many challenges relating to the cultural differences. Oksana, owner of a marriage agency in Kiev, understood that many years ago and reacted by offering their clients personalized matchmaking services, thus greatly improving the success rate of the development of their relationships."
Alain Lalonde, president and founder of MyPartnerForever.com explains, "Although there is so much information available on the web and that there are lots of websites pertaining to the Russian and Ukrainian culture, not everybody takes the time to learn and prepare themselves. This is where the presence of experienced matchmakers can make the difference and help men who are looking for a Ukrainian bride.
About MyPartnerForever.com
MyPartnerForever.com was founded in 2007 and is incorporated in Montreal, Quebec, Canada. It is owned by Alain Lalonde and Yuliya Kuneyeva. It specializes in introducing single Russian women seeking a foreign husband to men from all over the world.
Contact
Alain Lalonde, President
MyPartnerForever.com
+1 (450) 264-6884
Email: alain.lalonde@mypartnerforever.com
MyPartnerForever