MyPartnerForever Now Offers Dating Services with Ukrainian Women from Vinnitsa
10 August 2012
MyPartnerForever, a company offering dating and matchmaking services, recently partnered with a well-established marriage agency in Vinnitsa, Ukraine.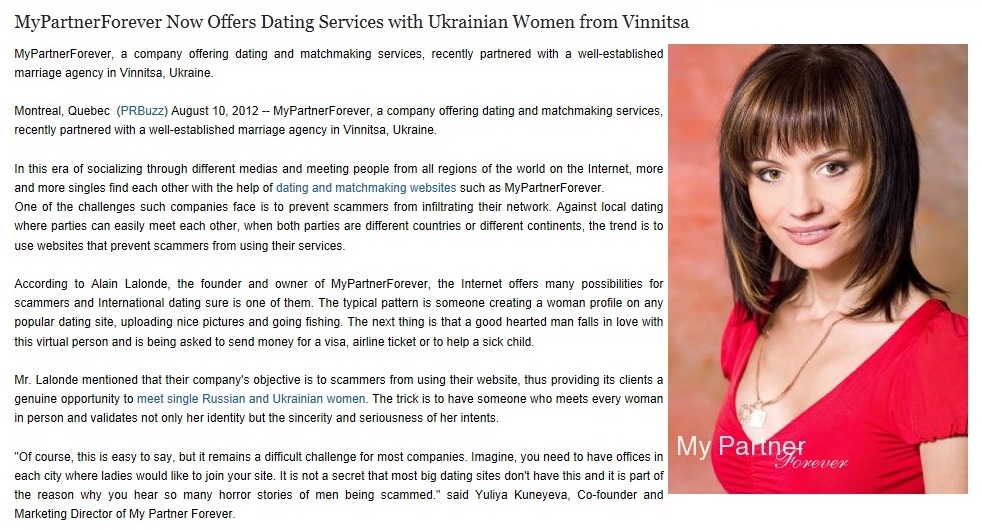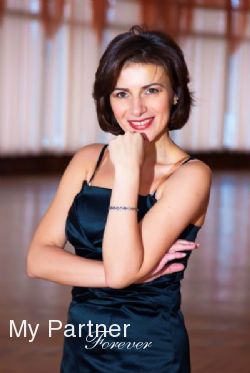 Montreal, Quebec – August 10, 2012 – MyPartnerForever, a company offering dating and matchmaking services, recently partnered with a well-established marriage agency in Vinnitsa, Ukraine.
In this era of socializing through different medias and meeting people from all regions of the world on the Internet, more and more singles find each other with the help of dating and matchmaking websites such as MyPartnerForever.
One of the challenges such companies face is to prevent scammers from infiltrating their network. Against local dating where parties can easily meet each other, when both parties are different countries or different continents, the trend is to use websites that prevent scammers from using their services.
According to Alain Lalonde, the founder and owner of MyPartnerForever, the Internet offers many possibilities for scammers and International dating sure is one of them. The typical pattern is someone creating a woman profile on any popular dating site, uploading nice pictures and going fishing. The next thing is that a good hearted man falls in love with this virtual person and is being asked to send money for a visa, airline ticket or to help a sick child.
Mr. Lalonde mentioned that their company's objective is to scammers from using their website, thus providing its clients a genuine opportunity to meet single Russian and Ukrainian women. The trick is to have someone who meets every woman in person and validates not only her identity but the sincerity and seriousness of her intents.
"Of course, this is easy to say, but it remains a difficult challenge for most companies. Imagine, you need to have offices in each city where ladies would like to join your site. It is not a secret that most big dating sites don't have this and it is part of the reason why you hear so many horror stories of men being scammed." said Yuliya Kuneyeva, Co-founder and Marketing Director of My Partner Forever.
Lalonde added "Right from the beginning, we opted to offer our members something different from what the majority of dating sites were already offering. Our goal was to feature the profiles of women who were met in person and who validated their identity with official documents. The challenge was to find reliable partners in the selected cities of Belarus, Moldova, Russia and the Ukraine."
"Well, you may have guessed it: we traveled a lot. We actually went to meet potential partners in most major cities of the mentioned countries and this process in ongoing. This is what allowed us to offer a different and more reliable service than most other sites offering dating services with Russian and Ukrainian women." Added Lalonde
Kuneyeva added "Today, we are proud to announce our latest partnership. It is with a well-established company located in Vinnitsa, Ukraine. The company is owned and managed by two women, Alla and Irina. They began their activities as a "women club" where women go to enhance their spirituality and improve their ability to cope with stress."
"Given the lack of available men in Vinnitsa, as it is the case in most cities of Ukraine as a whole, they eventually decided to create their marriage agency and began looking for international dating sites to cooperate with. They found us on the web, got in touch with us and we were very happy to meet them and work out the details of our partnership." Added Kuneyeva.
With a population of approximately 370,000,Vinnitsa, is located at 260 km from Kiev, the capital of Ukraine. Although there is an international airport in Vinnitsa, not many major airlines has it for a destination. There are regular trains and buses from Kiev and it is a 3 – 4 hours ride by car.
About MyPartnerForever.com
MyPartnerForever.com was founded in 2007 and is incorporated in Montreal, Quebec, Canada. It is owned by Alain Lalonde and Yuliya Kuneyeva. It specializes in introducing single Russian women seeking a foreign husband to men from all over the world.
Contact
Alain Lalonde, President
MyPartnerForever.com
+1 (450) 264-6884
Email: alain.lalonde@mypartnerforever.com
MyPartnerForever