My Partner Forever Partnered with Russian Brides Agency Alla in Samara, Russia
09 August 2011
My Partner Forever, an international marriage agency that specializes at introducing Eastern European women from Russia and FSU, recently partnered with Russian Brides Agency Alla, located in Samara, Russia. By combining their experience and services, they offer a scam free environment where their clients can easily and safely find a life partner.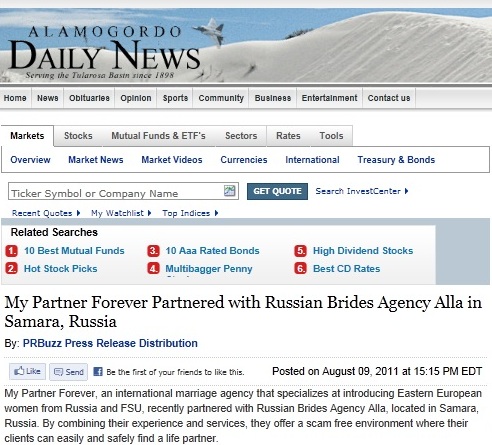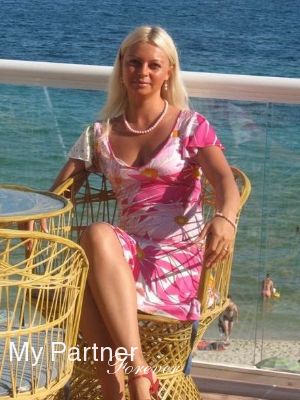 Montreal, Quebec – August 09, 2011 – My Partner Forever, a leader in international dating and matchmaking, has recently partnered with Russian Brides Agency Alla, located in Samara, Russia. With this new partnership, the two agencies are in an excellent position to help foreign men who are seeking a Russian wife.
Russian Brides Agency Alla specializes in the development of long lasting relationships leading to marriage between single Russian women from Samara and foreign men from all areas of the world.
Located in the south eastern part of European Russia, Samara is built on the banks of the beautiful Volga River. It has many architectural sites of interest including Orthodox Catholic, Roman Catholic and Evangelical Lutheran Churches.
"I am very happy to begin this new cooperation with Tatiyana, the owner of the marriage agency. She is very professional and has years of experience in international matchmaking. Given the lack of available men in Samara, as in most parts of Russia and former Soviet Union, she knows that it is not easy for women to find a good husband locally. Her agency has a very good reputation among Samara's single women and many of them are registered with her service." said Yuliya Kuneyeva, Co-founder and Marketing Director of My Partner Forever.
Kuneyeva added, "They have modern offices located in the city center. With the help of their skilled employees, they offer all the services foreign men can need to travel with peace of mind and concentrate on the purpose of their trip which is to find a Russian bride. Among their services, they offer airport transfers, services of an interpreter, guides and accommodation."
Alain Lalonde, president and founder of MyPartnerForever.com explains, "The most important aspect for us is to give the best tools to our clients so they can focus on the goal of their trip. Since most foreigners traveling to meet single Russian women in Samara don't speak Russian, we need to provide them with daily assistance so they don't waste time at trying to find a restaurant, dry cleaner etc. Our partner agency's staff is very experienced at hosting foreigners and they have the reputation of being quite successful at creating relationships between their single women and foreigners."
Kuneyeva added, "They have an impressive team of photographers, stylists, translators and experienced mangers than can help clients better understand the Russian culture and traditions. They can also provide their clients with visa support documents."
About MyPartnerForever.com
MyPartnerForever.com was founded in 2007 and is incorporated in Montreal, Quebec, Canada. It is owned by Alain Lalonde and Yuliya Kuneyeva. It specializes in introducing single Russian women seeking a foreign husband to men from all over the world.
Contact
Alain Lalonde, President
MyPartnerForever.com
+1 (450) 264-6884
Email: alain.lalonde@mypartnerforever.com
MyPartnerForever