Montreal Matchmaking Agency Innovates Real-Time Corresponding With Russian Women
11 December 2009
MyPartnerForever.com, a Montreal based international matchmaking agency, innovates with a state of the art communication system which allows their members to correspond in "Real-Time"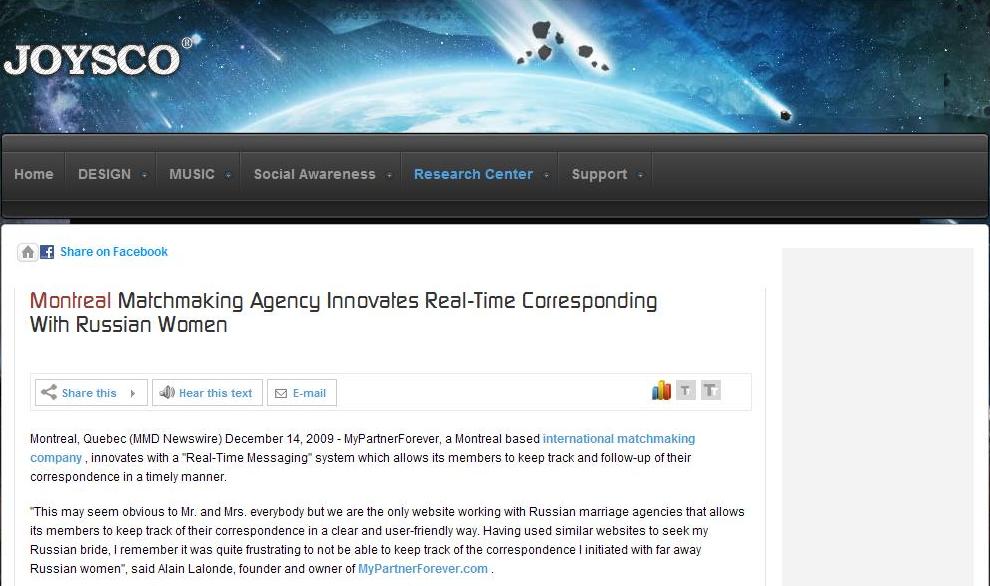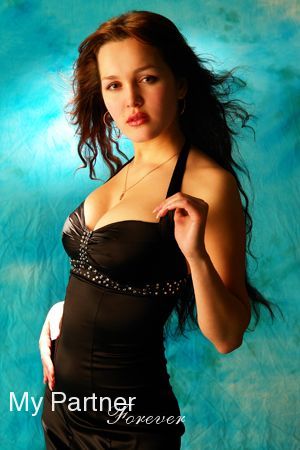 Montreal, Quebec -- December 11, 2009 – My Partner Forever, a Montreal based international matchmaking company, innovates with a "Real-Time Messaging" system which allows its members to keep track and follow-up of their correspondence in a timely manner.
"This may seem obvious to Mr. and Mrs. everybody but we are the only website working with Russian marriage agencies that allows its members to keep track of their correspondence in a clear and user-friendly way. Having used similar websites to seek my Russian bride, I remember it was quite frustrating to not be able to keep track of the correspondence I initiated with far away Russian women", said Alain Lalonde, founder and owner of MyPartnerForever.com.
Being outnumbered by approximately 10 millions men, Russian women with traditional family values turn to international marriage agencies to find a life partner.
"Upon taking the decision to find a life partner in Russia, a man faces the difficult task of choosing an honest and reliable matchmaking website which will not only provide profiles of single Russian women but will also help them through the whole process: traveling arrangements, visa support documents, convenient accommodations, info and support through the whole immigration process that will follow a marriage", continued Yuliya Kuneyeva, co-founder and owner of My Partner Forever.
Lalonde added "Not being able to keep an accurate track of the correspondence adds a shed of uncertainty and doubt and uselessly complicates the whole process. We've innovated by offering our members state of the art inbox/outbox systems so they can concentrate on the true essence of their reason to join our website: find a life partner who will share their precious values."
Russian women are generally well brought-up, well educated and hard workers. They also have the ability to appreciate the little things of life that many of us are too busy to recognize. Unable to find a life partner and create a family, many decide to seek a suitable husband outside their homeland.
Yuliya Kuneyeva, Co-founder and Marketing Director explains, "Talking to our partner marriage agencies and to our clients on a daily basis, it became obvious that we needed to innovate and offer our member a modern and user friendly communication system. With our new mail forwarding system, I've seen men and women developing serious relationships within few weeks. This really makes me happy as I see many men traveling to Russia and asking the hand of my fellow Russian women".
Kuneyeva added, "Despite the distance and time-zone differences, our clients and Russian brides can now send letters to each other and get answers on the same day. This new interface changes the whole dynamics of "uncertainty" and contributes to creating happy couples".
About MyPartnerForever.com
MyPartnerForever.com was founded in 2007 and is incorporated in Montreal, Quebec, Canada. It is owned by Alain Lalonde and Yuliya Kuneyeva. It specializes in introducing single Russian women seeking a foreign husband to men from all over the world.
Contact
Alain Lalonde, President
MyPartnerForever.com
+1 (450) 264-6884
Email: alain.lalonde@mypartnerforever.com
MyPartnerForever