Matchmaking Services to Find a Ukrainian Bride now Available in Kherson
31 August 2011
My Partner Forever, an international matchmaking service that helps single men from around the world and single Ukrainian women to find each other, recently partnered with Ukrainian Brides Agency Tatiyana, located in Kherson, Ukraine. Their partnership enables them to offer a wide range of services, both for their local and international clients.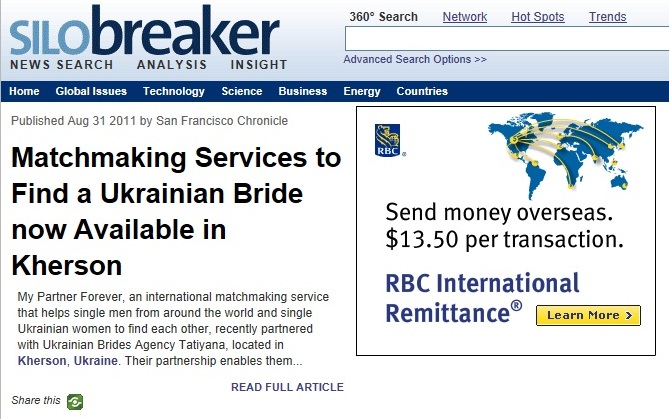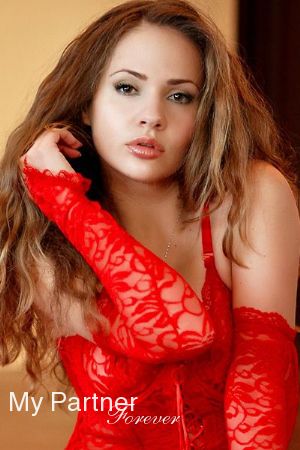 Montreal, Quebec – August 31, 2011 – MyPartnerForever.com, a leader in dating with Russian and Ukrainian women, has recently partnered with Ukrainian Brides Agency Tatiyana, located in Kherson, Ukraine. This new partnership enables the two agencies to offer a wide range of services, both for foreign men and for their Ukrainian women.
Kherson is located in southern Ukraine. Being an important port on the Black Sea and Dnieper River, it is also home of a major ship-building industry. There is no international airport in Kherson but it can easily be accessed by train, bus or car. Situated at approximately 220 km from Odessa, it represents a relatively short and affordable taxi ride.
With a population 329,000 (as of the 2007 Census), Kherson, as most cities of Ukraine and former USSR, suffers from a demographic imbalance resulting in thousands of single women more than single men. This seems to be the main reason explaining why so many single Ukrainian women from Kherson join their local marriage agency in the hope to find a foreign husband.
"When I first met Tatiyana, the owner of the marriage agency, at her offices in Kherson, I must admit being quite impressed by her organization and professionalism. The fact is that she runs two businesses from the same location: an international marriage agency and a travel agency. Of course, the two businesses go along well together and many of her clients, both foreigners and locals, use the services of both her agencies." said Yuliya Kuneyeva, Co-founder and Marketing Director of My Partner Forever.
Kuneyeva added, "Although her travel agency is mostly for locals from Kherson and the greater Kherson area that are looking for vacations deals, it is not rare to see foreigners and their new Ukrainian fiancée take a trip together to nearby Crimea or Turkey. However, it is her marriage agency and matchmaking services business that we have partnered with and it represents an added value to both our clients."
Alain Lalonde, president and founder of MyPartnerForever.com explains, "Although, we had several pleasant and constructive phone conversations and Skype meetings, nothing beats a face to face meeting. Not only it allows both parties to get a much better feeling of who they are dealing with, it allowed us to see concretely their systems and how they behave with clients, both foreigners and local women."
Lalonde added, "In a similar way, it is the same message we give our clients: letters, phone calls and Skype have their limits; only a face to face meeting can tell if there is true chemistry. Our partnership with Tatiyana enables us to provide all the services our clients will need from finding each other on the web, developing a relationship and meeting in person."
About MyPartnerForever.com
MyPartnerForever.com was founded in 2007 and is incorporated in Montreal, Quebec, Canada. It is owned by Alain Lalonde and Yuliya Kuneyeva. It specializes in introducing single Russian women seeking a foreign husband to men from all over the world.
Contact
Alain Lalonde, President
MyPartnerForever.com
+1 (450) 264-6884
Email: alain.lalonde@mypartnerforever.com
MyPartnerForever