International Dating Website Now Offers a Matchmaker Service in Kiev, Ukraine
25 January 2010
MyPartnerForever.com, a Montreal based international matchmaking agency, have recently partnered with marriage agency Svetlana in Kazan Russia who specializes at introducing single Russian women seeking a foreign husband. The two agencies are planning to offer a wider range of services for their clients.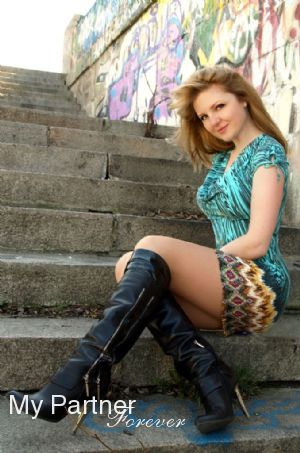 Montreal, Quebec -- January 25, 2010 – My Partner Forever, a Montreal based international dating website, has partnered with Russian marriage agency Nadya from Kiev, Ukraine to offer their matchmaker service for their clients.
MyPartnerForever.com, a leader in international dating has partnered with a well established Ukrainian marriage agency in Kiev, Ukraine. Being the capital of Ukraine with a population of over 2,600,000, Kiev has all the modern infrastructures to host foreign men seeking a Ukrainian bride
"With an international airport situated only 40 kilometers from the city center and offering most of the services found in Western Europe and North American countries, Kiev is a very popular destination for foreign men seeking a Ukrainian woman to become his future wife." said Alain Lalonde, president and founder of My Partner Forever.
Mrs. Yuliya Kuneyeva, Co-founder and Marketing Director explains, "Kiev is a very nice city with wonderful people but as any metropolitan center, it has its share of crime and fraudulent people. It is very important for us to work with honest marriage agencies and we are very happy to have partnered with Nadya who is an experienced and reliable matchmaker involved in the international dating for many years."
Kuneyeva added, "Most of our clients seeking an Eastern European bride come from distant countries, in many cases from as far as Australia and New Zealand. We need to take every step to ensure we introduce women who are real and motivated in finding a husband from outside their country. Our partner Nadya who runs her matchmaking service for many years meets every Ukrainian woman who seeks her service in person and interviews her to evaluate the seriousness of her intentions."
Lalonde added, "I personally met Nadya in 2006 in my quest of finding a Russian wife. She was actually one of the first Russian people I met and her integrity immediately made me feel very warm and secured. With all the scam stories related to the Russian brides industry, it is of the upmost importance to feel that we are working with people who deserve out trust and marriage agency Nadya in Kiev is certainly among those."
About MyPartnerForever.com
MyPartnerForever.com was founded in 2007 and is incorporated in Montreal, Quebec, Canada. It is owned by Alain Lalonde and Yuliya Kuneyeva. It specializes in introducing single Russian women seeking a foreign husband to men from all over the world.
Contact
Alain Lalonde, President
MyPartnerForever.com
+1 (450) 264-6884
Email: alain.lalonde@mypartnerforever.com
MyPartnerForever